The first five episodes of Black Lightning are available right now for free on the CW app, and you really should watch them.
"Black Lightning" represents a refreshing approach to telling the story of a superhero, and that fact might normally be something that blinds people from seeing its failings in an objective way. But "Black Lightning" clearly doesn't want to be misunderstood, so the first five episodes of the series are available now on the CW app (The CW's free streaming service) meaning that nothing is really lost if you give this new series a spin around the block.
Taking place outside of the CW's Arrowverse, "Black Lightning" is the story of Jefferson Pierce, a divorced father of two teenage daughters, a high school principal, and the retired superhero Black Lightning. After his daughters are kidnapped by the 100, a massive street gang that operates in the city of Freeland (the setting of Black Lightning,) Jefferson dons his old mantle once again (with the help of his tech-savvy friend Peter Gambi) in order to rescue them. However it's a return that spells trouble in all kinds of different flavors, and all the wrong people start noticing Black Lightning's resurrection. At the same time though, a city that had surrendered their agency to the tyrannical rule of the 100 long ago starts to find hope once again as their former savior and protector returns after nearly ten years of silence. With so many depending on Black Lightning as a symbol of hope, can Jefferson really just walk away once again?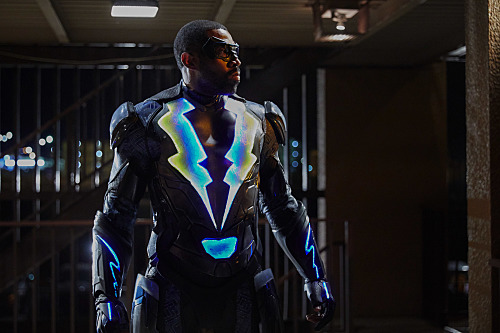 "Black Lightning's" greatest asset is that it's a story that hasn't been told (in the medium of television anyway.) Not only is Black Lightning a retired superhero, he's a middle-aged one with a family that's still intact and a full life outside of his vigilantism. Jefferson can take a while to grow on you because the creators' desire for him to be a positive black character can be a little over-the-top at times. It's clear by both this and Luke Cage that there's an inherent fear from the creators of projecting a lead black male as ignorant or "urban" in the most stereotypical ways so it's loaded with overcompensation to try and make the character more positive. Despite this, Jefferson is complex all on his own. His power as a superhero and his position as a role model in his community makes his every interaction a clear struggle between his head and his heart. Jefferson has so many conflicts in his life, and they're all significant because the series takes more time to set up these connections than to hint at its big universe with crowd-pleasing references that don't actually add anything to the narrative. Black Lightning doesn't need to dip into DC comics for plot points because it's more about how the characters exist and interact in a world that has the same misguided ideas about race that ours does. The first episode sees Jefferson being pulled over by the cops and having to suppress not just his powers but his independence in order to avoid seeming threatening. This is the kind of thing that hits hard because it's something that actually happens. Black Lightning doesn't hang its coat on interactions like this, but it sprinkles them in so we as an audience can understand through the superhero story medium how our notions of race affect our every action and interaction with different people. This is where Cress Williams is at his absolute best as a dramatic actor. But an action star he isn't. Black Lighting (especially in the earlier episodes) is a stiff and unimpressive fighter with no sense of strategy or finesse. This could be argued to be due to his age and lack of practice, but it also means that Black Lightning's action scenes are the easiest aspect to tune out. There's one part of Black Lightning which I just couldn't possibly ignore though, and that's Jefferson's family.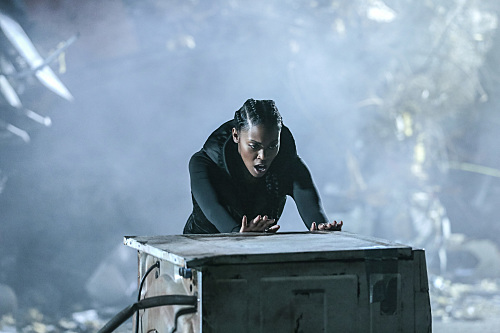 Besides Jefferson, there are three other members of the Pierce family that feature prominently in the series and have their own respective drives, stories, and motivations. There's Lynn Pierce, Jefferson's ex-wife and one of the only three people who know Black Lightning's true identity. She was unable to handle seeing the toll being Black Lightning took on Jefferson and feared him being killed and leaving behind his daughters without a father. Anissa Pierce, Jefferson and Lynn's oldest daughter, a medical student, an active political activist, and a fledgling self-styled superhero. Anissa discovers her strange abilities at the end of the first episode and spends time in the next four episodes researching and perfecting them as well as investigating the murder of her grandfather. Finally, there's Jennifer Pierce, the youngest daughter of Jefferson and Lynn who's a rebellious teenager with a penchant for social media and running track. In the comics, Black Lightning does indeed have two daughters named Anissa and Jennifer and they're both superheroes that go by the names Thunder and Lightning respectively. It looks like they're taking Anissa in that direction, but there's less of an arc for Jennifer. She's the apparent narrator of the series which leads me to believe that she'll be playing a bigger part in the superhero part of the series later on. Sadly for the first five, she doesn't have nearly as much to do as Annissa does outside of the garden-variety teenager stuff, but her character is fierce, funny, and capable so I really hope she's more involved later on. It's so rare for a superhero story to involve an entire family, and it seems like Black Lightning is about the evolution of Jefferson Pierce and his daughters as a family of superheroes. This is an incredible direction to see a series go in, and I really can't wait to see the story start bringing them on to the same path.
Final Word: The first five episodes of Black Lightning have me hooked. Not only is the series about the struggles of a black superhero in a modern world, but it's also about how a superhero father can raise two teenage daughters and maintain his relationships and obligations on top of being a vigilante. The fact that his daughters court the similar ideas about justice as him makes the conflicts he has to endure all the more intriguing. The aspects of crime and villainy don't have the same level of complexity, doing pretty much exactly what Daredevil did (a damaged man-boy with an abusive past becomes a criminal nemesis while managing an empire behind the scenes all the while being caught in a vice-grip of an unnecessarily creepy matriarchal figure with a mysterious connection to an unknown and powerful organization that supposedly runs everything from the shadows.) I can't really care about the secret deep-cover villainy that Black Lightning is trying to intrigue me with, but a superhero on a morning jog with his daughters is absolute gold to me. Maybe I'm just getting too old for the new-fangled wannabe Batman superheroes but to me, Black Lightning is telling an original story with values I didn't realize were missing from superheroes. While I value what Black Lightning has to say about race, Jefferson's struggles as a father are hands-down the best aspect of the show and Black Lightning is the only place you can watch a father raising two superhero-to-be daughters. I seriously can't wait for episode six, because once Black Lightning found its footing, it felt like the episodes were flying by.
Don't miss Black Lightning Tuesdays and 9/8 C only on the CW.