It's all about Buck's busty alien queen in this week's CW/DC TV Roundup!

Legends of Tomorrow: Season 3: Episode 11: "Here I Go Again."
You know what makes "Legends of Tomorrow" so fun despite being probably the lowest priority of the Arrowverse? The answer: episodes like "Here I Go Again." This was a fantastically constructed episode all the way through. Zari experiences a technical mishap while doing "routine maintenance" on the Waverider, and as a result, ends up getting stuck in a time loop where only she is aware that time is repeating.  Every hour, she has to convince the rest of the Legends that she's telling the truth about the time-loop and then determine the cause of the explosion, so she can prevent it. However, Zari is still sitting somewhere outside the team cooperatively despite being involved in multiple successful missions and so the main purpose of the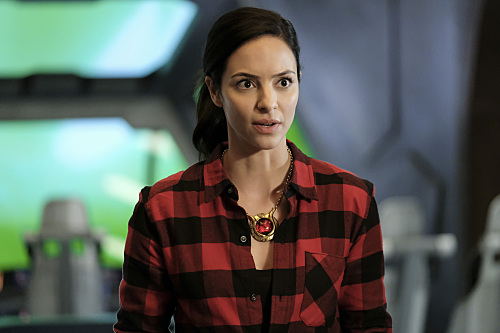 episode ends up being to bridge the divide between Zari and the rest of the Legends in a bit of a hurry. "Here I Go Again" does this successfully by revealing facts about all of the Legends along the way which reveal little unknown and personal sides to the different members of the team through Zari's lens.  It's easy to follow along with empathetically as she learns to become invested in them by spending an indeterminate, but undoubtedly long, time learning about their various hopes, desires, fears, and even quirks. The plot twist for why the time loop was happening ended up being sort of disappointing me as it felt like the reveal cheapened the incredible experience Zari had, but the episode clearly realizes how close it came to invalidating its own narrative and course-corrects in a way to provide due deference to both Zari's experience as well as the information gleaned by the audience. "Here I Go Again," despite ending on a very sweet and profound note, does spend most of the runtime just playing around with the premise, making multiple Groundhog Day jokes and references along with a few hilarious Legends exclusive surprises including perfectly recreating a conversation between Ray and Rory using large "Love Actually" style notecards.
Final Word: Proof that you can indeed be both funny and profound, "Here I Go Again" is the absolute best of Zari since she first stepped foot on the Waverider. Her place in the team is really cemented, and Tala Ashe plays up a bevy of emotional reactions to her situation and even lowers herself to playing the fool a few times with charming results. This is one of those perfectly absurd storylines that only Legends can really pull off so it's clear that without Legends on the DC lineup, things run the risk of getting incredibly boring. Hopefully, this season continues to erase the bad taste season two left.  I'm thinking adding in Wally West can do nothing but help that.