Superman exits, Jesse Quick enters, a new team forms, and an old team is introduced in this week's CW/DC TV roundup.
This week was about finding the right note for each one of CW/DC series to play upon.  In a way it was each series getting back to normal, but that includes the introduction of new characters, conflicts, and plot-lines so it's an oversimplification.  Short version, despite not taking advantage of any big ideas of each season each episode is a solid installation of its respective series.
Supergirl and Superman go a couple rounds with the newest creation out of Project Cadmus in "The Last Children of Krypton".  In the comics, Project Cadmus is a genetic lab responsible for advances that has led to both heroes and villains (heroes like Guardian, who has already been revealed to be appearing in a future episode of Supergirl).  In Supergirl the series however, Cadmus seems to be an anti-alien super-villain f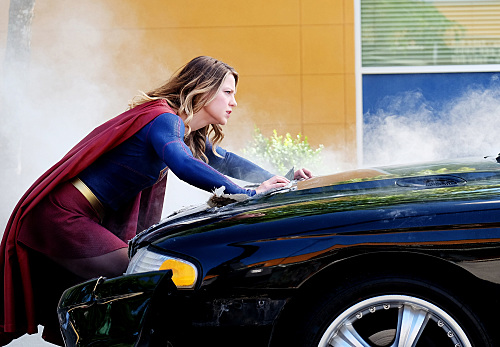 actory that revels a little too much in its own evil to be taken as seriously as it should.  Cadmus unleashes not one, but two Metallos on the world, pulling Superman and Supergirl apart for the first time since their team up.  It's a sink or swim situation for Kara, which amazingly extends in to the rest of the narrative as she learns being a reporter is about more than just taking the job.  Her new boss, DC Comics' Snapper Carr (Ian Gomez) fails to recognize her as a reporter without her proving it, leading her to question the entire decision and whether or not she wants to go on as Supergirl without Superman; when Clark reveals his plan to return to Metropolis.  The episode results in Kara attempting to find the balance between receiving help and relying on it.  Like the first episode, both of the drama and superhero conflicts remain on the same wavelength, keeping everything thematically connected.  This is the second time that Supergirl has succeeded at creating this parallel, and it seems to be a great way to keep both aspects of each episode equally significant.
Supergirl isn't the only one receiving help in this week's episode.  Both Barry and Oliver are getting teammates, whether they want them or not.  First we'll start with Barry though as he takes on the incredibly conflicted "Magenta." In the comics, Frances Kane is a former flame of Wally West, however in the the Flash series Frankie Kane (Guest star Joey King) is an orphan in the care of a foster father who probably won't be receiving any "World's Best Dad" mugs.  However, just like her comic counterpart, Magenta may not even want her powers to define her.  Well, to be clear, I think that's what F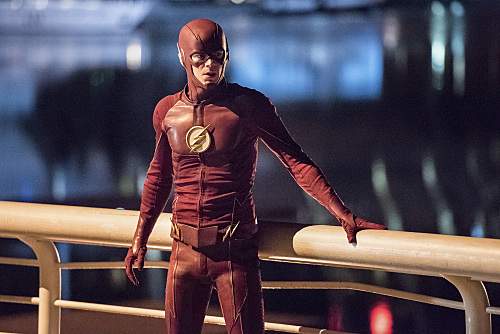 rankie doesn't want actually.  Yet another leftover from the Flashpoint timeline, Magenta is brought in to the new timeline, by the mysterious new villain Alchemy, through Frankie.  It's up to Flash to save Frankie but stop Magenta and he's not alone as Harrison Wells returns from Earth-2 with the newly sped up Jesse.  Jesse embraces her new powers earnestly, much to Wells' disappointment, but no one is experiencing more disappointment from Jesse's newfound abilities than Wally, who is desperate to gain the abilities of a speedster; and he's willing to do practically anything to jumpstart them.  This episode also sees Iris and Barry attempting to jumpstart their romantic relationship, and experiencing around the same amount of success as Wally.  This episode hits a lot of emotional and sympathetic notes with conflicts from Wells and Wally, conflicts that tie in to the two worlds theme of Magenta and Frankie and Iris and Barry.  This is also a suitable and interesting use of the "Flashpoint" paradox, and Joey King plays Magenta as a much more sympathetic foe than the usual Flash fare.
Arrow however goes the opposite route with a bad guy that is so by the numbers that they brought in a heel to play him.  Cody Rhodes steps in to the spotlight as a drug dealer turned super villain in "A Matter of Trust." After a new drug, Stardust (awkward cough), starts sweeping the streets Oliver tracks down a dealer who can give him information on the identity of the supplier, coming away with the name Derek Sampson.  With that information, Rene decides that it's his time to prove himself to the Green Arrow, and goes after Sampson himself resulting in an accident that turns a regular drug dealer in to a superhuman who can't feel pain.  Naturally all of this is acting as the unofficial round two of the Amell & Neville VS Stardust & Barrett match that took place at the WWE's Summerslam last year.  Despite the ulterior motives of the episode, including the naming of the drug, "A Matter of Trust" is smart enough to keep the metatext in the margins.  The highlight of the episode is really focused on the synergy of the team, and the trust that they have to put in each other.  Cody Rhodes is a successful though generic villain, but his experience as a performer comes through in his imposing role in fight scenes.  The episode puts the team on full display for the first time, including a comic accurate representation of Mr. Terrific which interestingly enough finds its origin (in the episode anyway) in none other than wrestling.  Oliver continues to get his team on the same wavelength, and it's interesting to see him fail and succeed due solely to his own faults.  Meanwhile, there's an interesting conflict that develops solely from Diggle's perspective.  It's a fascinating storyline that brings back Deadshot (Michael Rowe,) but it's only the pitch with the hit coming in next week's "Penance."
As Oliver's team slowly makes headway, The Legends are experiencing an ass kicking from the actual legendary JSA, in ability, experience, and dynamics.  The team is forced to face their inadequacies after witnessing the efficiency of the JSA, DC Comics' Dr. Mid-nite (Kwesi Ameyaw), Commander Steel (Matthew MacCaull), Hourman (Patrick J. Adams), Vixen (Maisie Richardson-Sellers), Obsidian (Dan Payne) and Stargirl (Sarah Grey.)  The parallels here come from conflicts ranging from time separation, environment, and even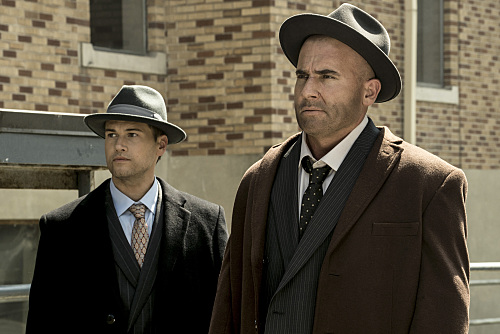 prejudice.  I didn't feel like the social differences were explored nearly as thoroughly as they should have been, but "The Justice Society of America" is an improvement over "Out of Time" in virtually every way.  The time is managed with much more efficiency, and the episode reveals its purpose more effectively.  Best of all, the humor is more on point and despite the seriousness of the conflict there is still plenty of fun had (specifically at the Nazi party, not Party party but cocktail party.) A little is revealed about the big bad of the season, but I think the most interesting exploration comes from the interactions between Commander Steel and Nate Heywood, and the modern definition of being a hero.  The struggle to find a place to fit Nate in the team ends up being an interesting avenue that the episode explores, but an unfortunate deus ex machina seems to answer that question pretty much immediately (as the preview of "Shogun" has shown us.)  A notable improvement over the first episode, but "Justice Society of America" reveals Legends still has some work to do to get back to where it was last season.
Final Word: All of the CW/DC episodes this week were good, but while greatness was touched (in Flash for instance) it was hardly harnessed.  Supergirl's decision to nix Superman in its second episode is a proof of dedication to Kara's journey and the equal attention shown to both her personal and professional occupations gives the episode balance and interest.  The super-villain factory of Cadmus however is flat, uninteresting, and hilariously evil.  A perspective beyond "mwahaha" would really give the whole aspect more substance.  Flash's introduction to Jesse Quick is just awesome and Violett Beane makes the character easily likeable, the disappointment from Wally is a great way to make his character more sympathetic and easily relatable.  Joey King makes Magenta sympathetic as a villain as well, separating the characters successfully and fully committing to Frankie's regrets for Magenta's deeds.  For Arrow, the parallels drawn between Oliver and his protege Rene give the theme of trust a lot more weight, and the flashbacks reflect this as well.  Dig's story is satisfying in both form and function.  I'm really looking forward to seeing how it all plays out next week.  Legends brings up the rear in both chronology and quality, and while the episode did have many positive notes that were missing in the "Out of Time" it still suffered from similar missteps including the enemy of all suspense, convenience.  The smaller cast is a step in the right direction, but the series still lacks direction.  The chaos involving the aimless team may be thematic, but it's hell on the narrative.  Hopefully with Sara leading the charge, this will change with next week's "Shogun."