"Running to Stand Still" is packed with emotional character moments, but a lackluster main conflict and a few boring villains drag down an otherwise solid installment of the Flash.
This was a big one for Flash fans. This is the first official mention of Wally West, and what makes that matter more than just being a big comic book name drop is that it introduces a possible interjection in to the already close knit group that is the West family. Fans have been with Joe, Iris, and Barry since episode one, so there's a lot of familiarity there as well as admiration, as the rapport the characters have built with the fans is paramount to their popularity in the show. With Wally though, an X factor is being introduced that will either break up what make the Wests such a likable element of The Flash or encourage a new series of conflicts and drama. With Jesse Martin at the helm though, the dramatic elements of "Running to Stand Still" are both sincere and sweet and it's his stake in the Wally information coming to light that makes the emotional angle of the story work as well as it does. Patty's story, especially in the regards to her relationship with Barry, also makes up a intriguing side conflict. Though a lack of exploration of specific elements of the story, and some inconsistencies and coincidences keep Vansanten's strong performance from exceeding the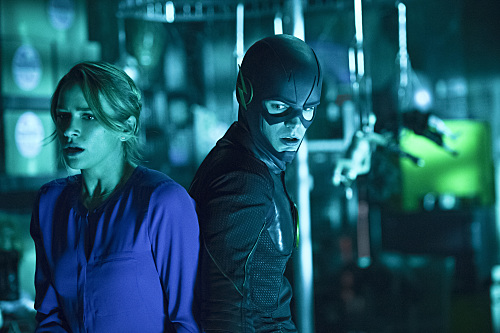 bounds of her minor conflict.
Unfortunately, Captain Cold, Weather Wizard, and The Trickster's plot doesn't have the same bite. A fairly by the numbers supervillain team-up, followed by a plot pulled straight from a silver age Flash comic (not actually of course, it's just a little too comic book villain obvious) creates a mundane backdrop that relies heavily on the plot rearranging characters and story elements in order to fit in with the big final battle. Miller sleepwalks through his Snart role at this point, but still ends up being a cool customer (Oh god…what have I become), Liam McIntyre isn't to be blamed for how dull Weather Wizard is as his performance succeeds at the base level for the character despite having basically nothing but the most generic comic book villain hatred motivation. The biggest sin of "Running to Stand Still" though is wasting Mark Hamill. Trickster playing second fiddle to a far less interesting villain eats away at any of the great scenes like the many the he had in the last episode appearance for The Trickster, and it just kills me to see a consistently entertaining character actor with a worthwhile villain role sitting in the background while some cardboard cutout spouts generic monologues about how he's already won. And I usually don't bitch about how the STAR Labs team solves their mysteries with pseudo-science, but there's something to be said about suspension of disbelief when it freely erases the complication of walls and ceilings to tie up an ending and expects us to not notice.
Final Word: Significant story structure issues, some dragged out for the sake of plot scenes, and the absolute disregard for basic physics kills any chance I had to enjoy the Flash's villain of the week plot. Though emotional performances from Jesse Martin and Shantel VanSanten make the episode still play hell with the heartstrings.
"Running to Stand Still" gets a 7.2/10. You don't waste Mark Hamill, it's just not done; that Wally reveal though.